…met een GRATIS workshop oriëntatie mindmappen
bij vier model-lessen begrijpend lezen met mindmappen.
Brainpartner wenst u allen een leerzaam 2015, maar, heeft u ook genoeg van al die workshops, trainingen, cursussen die allemaal veel te theoretisch zijn en veel te veel van uw kostbare tijd opeisen?
Maakt u zich wel zorgen over de opbrengsten van begrijpend lezen bij u in de groep?
Wilt u echt iets gaan doen aan kwaliteitsverbetering, lees dan verder.
Wij komen naar u toe! En als u in januari beslist, krijgen uw leerlingen vooraf een workshop oriëntatie mindmappen. Die hoeft u niet te betalen.
Modellessen begrijpend lezen
Op uw school komt Robert Pastoor of Nico Pisa een les van 1,5 uur geven in uw eigen lokaal met uw eigen leerlingen. Die les gaat over begrijpend lezen en u kunt kiezen uit vijf mogelijkheden: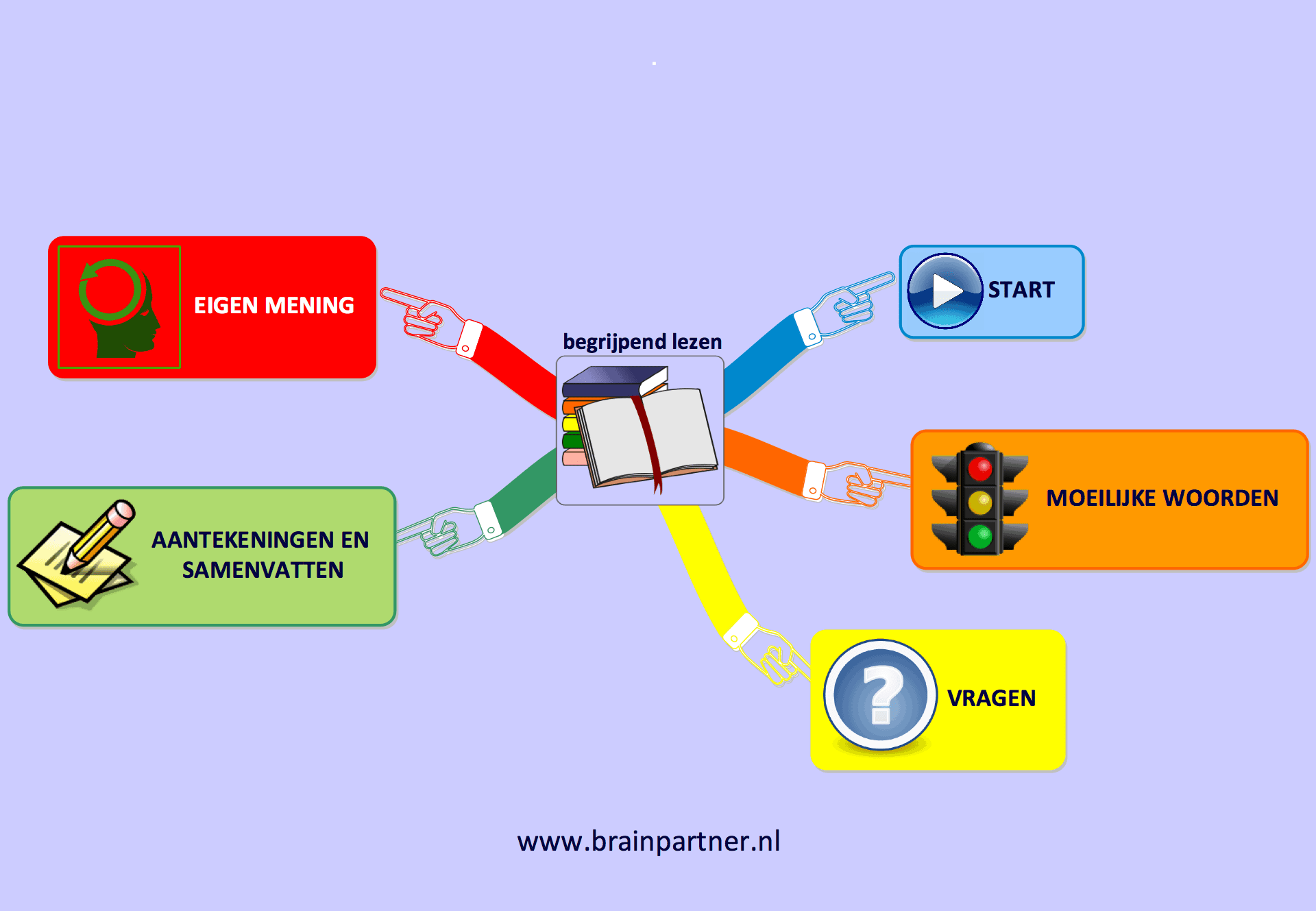 De lessen begrijpend lezen kunnen worden gegeven op alle niveaus ( groep 5 t/m 8).
Hoe gaat dat dan?
U kunt zich aanmelden in de webwinkel van Brainpartner of u belt of mailt. Afhankelijk van uw wens doen wij een telefonische of persoonlijke intake. Daarin bespreken we uw beginsituatie en uw wensen, en vervolgens maken we afspraken. Niet alleen rondom datum en tijd, maar ook inhoudelijk. Het grootste deel van de voorbereiding doen wij. Voor de uitvoering van de model-les begrijpend lezen komen wij naar uw school en geven de leerlingen een inspirerende workshop waarin zij leren wat een mindmap is. Op de dag van de uitvoering staan we samen met u voor uw leerlingen.
Wij hebben onze lessen opgebouwd met diverse elementen uit ' Wat werkt'  van Marzano. We houden de doelen, zowel voor u als voor de leerlingen, strak in de gaten. Uiteindelijk zijn de leerlingen na deze modelles in staat om er verder mee aan de slag te gaan.
Vervolgens kunt u niet alleen uw leerlingen, maar ook uw collega's ondersteunen. U kunt na de modelles gratis gebruik maken van alle bijbehorende lesmaterialen.
Gratis workshop oriëntatie mindmappen
Als u in januari 2015 besluit minstens 4 model-lessen te laten uitvoeren (in 2015), krijgen de leerlingen vooraf een workshop oriëntatie mindmappen cadeau. Dit is ook een les van 1,5 uur waarin de leerlingen leren wat een mindmap is (en het verschil met een woordweb) en wat de 5 belangrijkste regels van het mindmappen zijn. De ervaring leert dat leerlingen daarna enthousiast zijn om met mindmappen aan de slag te gaan.
Wat kost het?
De kosten voor zo'n modelles zijn inclusief btw € 250,- De intake, voorbereiding, materialen en reistijd zijn daarin opgenomen. Reiskosten zullen wij wel berekenen.
Als u minstens vier model-lessen laat uitvoeren op een dag, dan krijgt u de voorbereidende les mindmappen helemaal gratis[*].
Zegt u het maar!
Enthousiast?
Tijdbesparen!
De kwaliteit van begrijpend lezen verbeteren!
En dan ook nog een GRATIS workshop oriëntatie mindmappen.
Neem dan nu contact op met Robert of Nico
of kijk voor meer informatie op www.brainpartner.info
[*] Besluit hierover in januari 2015; uitvoering in 2015