[ Vooralsnog werkt dit alleen goed in Chrome en Firefox ]
Nieuw in  iMindMap 6.2-update is de iMindMap Viewer. Nu kan je een interactieve versie van je mindmap delen met vrienden of collega's. Zij kunnen de mindmap bekijken door simpelweg te klikken op een link. Hier is een korte stoomcursus …
Wat is de Viewer
De Viewer is een interactieve, alleen-lezen versie van uw Mind Map, weergegeven in een webbrowser. U kunt takken in- en uitklappen, in-en uitzoomen en pannen, notities bekijken en klik op een website link in de mindmap.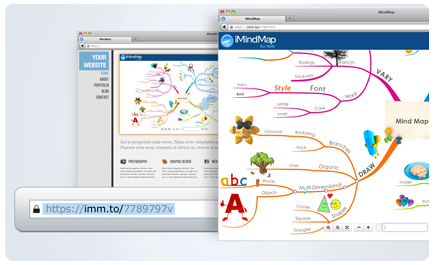 Maak een link
Om uw Mind Map delen moet u eerst een publieke link maken. Die link geeft iedereen de mogelijkheid om de mindmap te zien, of ze iMindMap nu hebben of niet. Het is zo simpel gaat dat!
De in de onderstaande video ziet u de stappen om deze koppeling te maken. [ Engels ]
Als je een website hebt, kan je koppelingen toevoegen aan de mindmap in de Viewer. Daarmee kan je informatie weergeven op een meer dynamische, visuele manier. Dit werkt briljant voor bijvoorbeeld een Mind Map CV of een mindmap over uw bedrijf. Om een ​​naadloze integratie te maken, lees dan verder over de embedding …
Embedding (insluiten) van een Mind Map
Een ander belangrijk kenmerk van de Viewer is de mogelijkheid om een interactieve Mind Map in je website of blog in te sluiten. Dit wordt bereikt op dezelfde wijze als een koppeling. U kunt een embed-code te genereren en, door het kopiëren daarvan  in uw website, zullen al uw bezoekers in staat zijn de Mind Map te lezen.
Bekijk de video hieronder om precies te weten hoe u uw Mind Map moet insluiten [ Engels ]
U kunt deze functie gebruiken voor website-mindmappen of voor een eenvoudig te navigeren resource bibliotheek, omdat de bezoekers hierdoor om toegang te krijgen tot andere webpagina's of documenten worden door simpelweg te klikken op de takken van uw Mind Map.
Eenmaal ingebed in een website vind je iets dat er zo uitziet. Je kunt links klikken en slepen op de kaart om te bewegen en gebruik het muiswiel (als je die hebt) om in-en uitzoomen, of je kunt de knoppen aan de onderkant gebruiken.
<!‐‐viewer,800x600,500432dab256ed5b27000019‐‐>
Gebruik van WordPress?
Als je embedding van uw Mind Maps in WordPress wilt gebruiken moet je het plugin bestand hieronder downloaden (. Zip). Een stap voor stap handleiding is ook hieronder opgenomen:
Insluiten met WordPress instructie: [PDF Guide]
WordPress Plugin [.zip]
Wij wensen je veel plezier met de iMindMap Viewer.
Succes met het delen van je Mind Maps!
Als je nog niet alle fantastische nieuwe functies die beschikbaar zijn in iMindMap 6.2 hebt ervaren, dan kan je een proefversie hier downloaden.