Welke versie u kiest is afhankelijk van uw toestel (PC / Tablet / Smartphone) en van de functies die u wilt gebruiken.
Hieronder ziet een beslisschema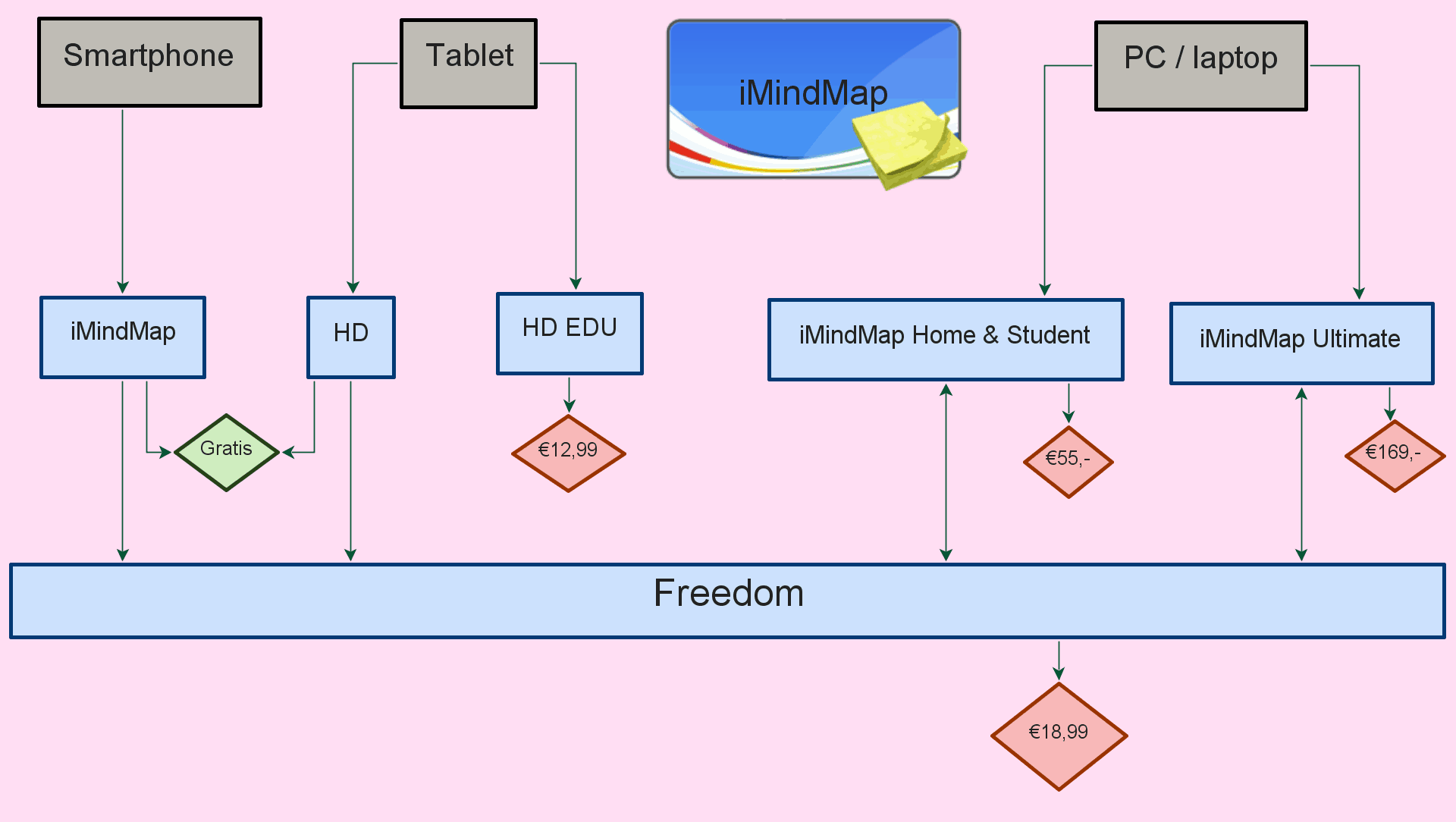 Heeft u meerdere toestellen en wilt u iMindMap gebruiken (en synchroniseren) op al die apparaten, dan kunt u het beste kiezen voor iMindMap Freedom. € 18,99 is een jaarlijkse bijdrage. Alle andere genoemde bedragen zijn eenmalig. iMindMap Freedom is alleen te gebruiken in combinatie met andere versies.
Heeft u alleen een Smartphone, dan kunt u iMindMap gratis downloaden op de voor u gebruikelijke manier.
Heeft u een Tablet, dan kunt u kiezen voor de HD of de HD EDU. De HD versie is gratis, maar heeft wel een aantal beperkingen. U kunt ook kiezen voor de betaalde HD EDU versie. Die heeft al die beperkingen niet. Voor een app is € 12,99 relatief duur, maar u krijgt daarmee ook een fantastische mogelijkheden om te mindmappen.
Heeft u gekozen voor Freedom, koop dan NIET de EDU versie, want met Freedom heeft u alle opties al.
Klik HIER voor een volledig overzicht van de mogelijkheden.
Wilt u iMindMap op een PC of een MAC bebruiken, dan kiest u voor Home& Student of Ultimate. Met de Ultimate versie heeft u écht alle functies beschikbaar.
De Ultimae versie, samen met Freedom, geeft onbeperkte mogelijkheden; ook met betrekking tot het synchroniseren op alle toestellen.
Nog niet helemaal duidelijk? Schrijf hieronder een reatie / vraag.
Er wordt zo spoedig mogelijk op gereageerd.