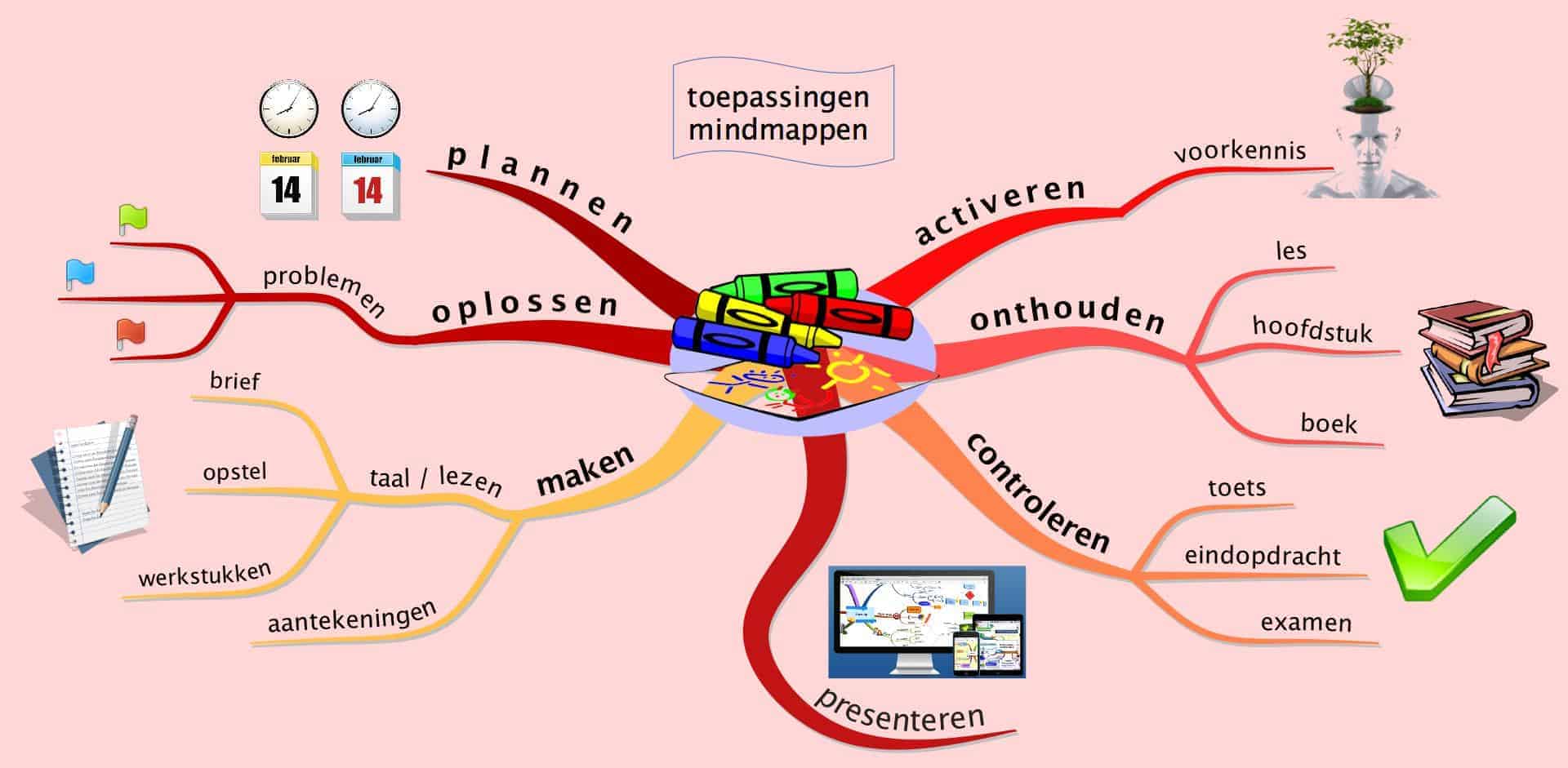 In het onderwijs kunnen mindmappen op vele manieren worden gebruikt. Hier een aantal ideeën. Heb je zelf ook ideeën, of gebruik je mindmappen in de praktijk, geef dan onderstaand een reactie, dan neem ik jouw idee ook op in dit blog.
ACTIVEREN VOORKENNIS
We weten allemaal dat het moet. Voordat we beginnen met leren moeten we nagaan wat we al weten. Nieuwe kennis blijft nu eenmaal beter hangen als je die koppelt aan bestaande kennis. Hoe doe je dat? Neem een vel papier, of start iMindMap. Zet het onderwerp in het midden en noteer alles wat je te binnen schiet in de mindmap. Gebruik één woord per tak (betere associaties).
ONTHOUDEN
Of je nu een les, een hoofdstuk of een heel boek moet onthouden, het gaat altijd beter als je er een mindmap van maakt. Gebruik kleuren voor de hoofdstukken en houd het niet alleen bij woorden. Teken erbij of zet er afbeeldingen bij (bijvoorbeeld uit Google).
CONTROLEREN
Wil je jezelf controleren (ken je de les of je proefwerk), maak dan eens een mindmap. Je ziet in één oogopslag wat je al kent. De kans dat je het dan op je proefwerk of examen ook weet, is behoorlijk groot. Je overziet ook het geheel. Dat is erg belangrijk bij proefwerken en examens. Leraren zouden eens kunnen proberen of zij in plaats van een proefwerk een mindmap als eindopdracht zouden kunnen laten maken.
PRESENTEREN
Moet je een presentatie houden? (Leraren doen dat aan de lopende band…) Gebruik dan eens iMindMap. Als je daarmee je presentatie hebt voorbereid, dan kan je je 'spreekbeurt' zo uit je mouw schudden. Je praat op een veel natuurlijkere manier zonder voor te lezen.
MAKEN
Voor het maken van brieven, opstellen en werkstukken is een mindmap een ideale tool. Begin met een mindmap en zet de hoofdlijn neer. Maak bij elke hoofdtak een aantal subtakken met kernwoorden. De kans dat je document een logische opbouw heeft is daarmee een stuk groter.
Ook voor het maken van aantekeningen is een mindmap een ideaal instrument. Heb je even geen kleuren bij de hand, maak dan gewoon een mindmap met een pen. Werk die later uit (op papier of met iMindMap). Je zult zien dat je daarna nog goed weet waar de les over ging. Je proefwerk of examen wordt een stuk makkelijker.
OPLOSSEN
Heb jij dat ook wel eens? Je weet niet of je het één of het ander zal kiezen. En die keuze zal grote gevolgen hebben. (Denk aan verhuizen, studiekeuze). Maak in dat geval een mindmap. Zet alle positieve dingen aan een groene tak en alle negatieve gevolgen aan een rode tak. Eventueel maak je een blauwe tak voor neutrale gevolgen. Je kan dan in één oogopslag alles overzien. Stel je prioriteiten en maak dan een keuze.
PLANNEN
Tenslotte kan een mindmap een handig hulpmiddel zijn om te plannen. Dat kan een planning zijn wat je op een bepaalde dag gaat doen, tot een leerschema om op tijd klaar te zijn voor een examen. Hang de mindmap met de planning ergens goed zichtbaar op. De kans dat je je planning gaat halen is direct een stuk groter.