Heeft u ook genoeg van al die workshops, trainingen, cursussen die allemaal veel te theoretisch zijn? Het kost allemaal vreselijk veel tijd. Wat moet je ermee in je eigen groep en hoe doe je dat?  Wilt u gaan werken aan kwaliteitsverbetering maar dan wel onder schooltijd met uw eigen leerlingen, lees dan verder.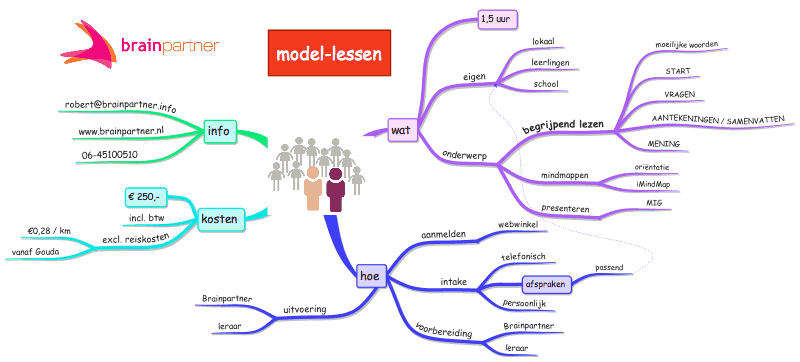 Wat is het precies?
Op uw verzoek komt Robert Pastoor of Nico Pisa een les van 1,5 uur geven in uw eigen lokaal met uw eigen leerlingen. Gewoon op school onder schooltijd dus. Die les kan gaan over begrijpend lezen, mindmappen of leren presenteren. Kiest u voor begrijpend lezen, dan zijn er vijf mogelijkheden: moeilijke woorden, START, vragen, aantekeningen/samenvatten en eigen mening. Kiest u voor mindmappen, dan kan dat een oriënterende les zijn, of les mindmappen met de computer. Tenslotte kunt u kiezen voor een les waarin kinderen leren een goede presentatie te maken (ook met behulp van mindmappen). De lessen begrijpend lezen kunnen worden gegeven op alle niveaus ( groep 2 – 8) en ook in de onderbouw van het voortgezet onderwijs.
Hoe gaat dat dan?
U kunt zich aanmelden in de webwinkel van Brainpartner of u belt of mailt. Afhankelijk van uw wens doen wij een telefonische of persoonlijke intake. Daarin bespreken we uw beginsituatie en uw wensen, en vervolgens maken we afspraken. Niet alleen rondom datum en tijd, maar ook inhoudelijk. Het grootste deel van de voorbereiding doen wij. Alleen als u helemaal geen ervaring met mindmappen hebt, dan adviseren wij u vooraf een leuk en eenvoudig boekje te lezen.  Op de dag van de uitvoering staan we samen voor uw leerlingen. U krijgt van ons aanwijzingen wat u zou kunnen doen en wij organiseren alles. Wel verwachten we van u dat u kinderen met speciale leerbehoeften in de gaten houdt.
Wij hebben onze lessen opgebouwd met diverse elementen uit ' Wat werkt'  van Marzano.
We houden de doelen, zowel voor u als voor de leerlingen, strak in de gaten. Uiteindelijk zijn de leerlingen na deze model-les in staat om er verder mee aan de slag te gaan. U bent in staat hen daarbij te helpen en volgend jaar kunt u de les zelf geven. Met een beetje geluk bent u in staat om uw collega's daar ook bij te helpen. U krijgt achteraf alle bijbehorende lesmaterialen (digitaal) erbij.
Wat kost het?
De kosten voor zo'n model-les zijn €250,- Dat is inclusief btw. Ook de intake, voorbereiding, materialen en reistijd zitten daar in. Het is exclusief reiskosten ( €0,28/km. vanaf Gouda of Nieuwendijk). Op een hele dag zouden er drie modellessen gegeven kunnen worden.
Meer info / aanmelden
Heeft u er zin in, ga dan naar de webwinkel van Brainpartner en meld u aan. We hebben dan direct al uw informatie en we nemen zo spoedig mogelijk contact met u op. Natuurlijk kunt u ook mailen ( robert@brainpartner.info) of bellen: 06-45100510
Wij hebben er zin in, u ook?
Robert & Nico