Modellessen
Komt begrijpend lezen bij u op school niet echt goed van de grond?
Maakt u zich zorgen over de opbrengsten van begrijpend lezen bij u in de klas? Bent u op zoek naar structuur bij begrijpend lezen?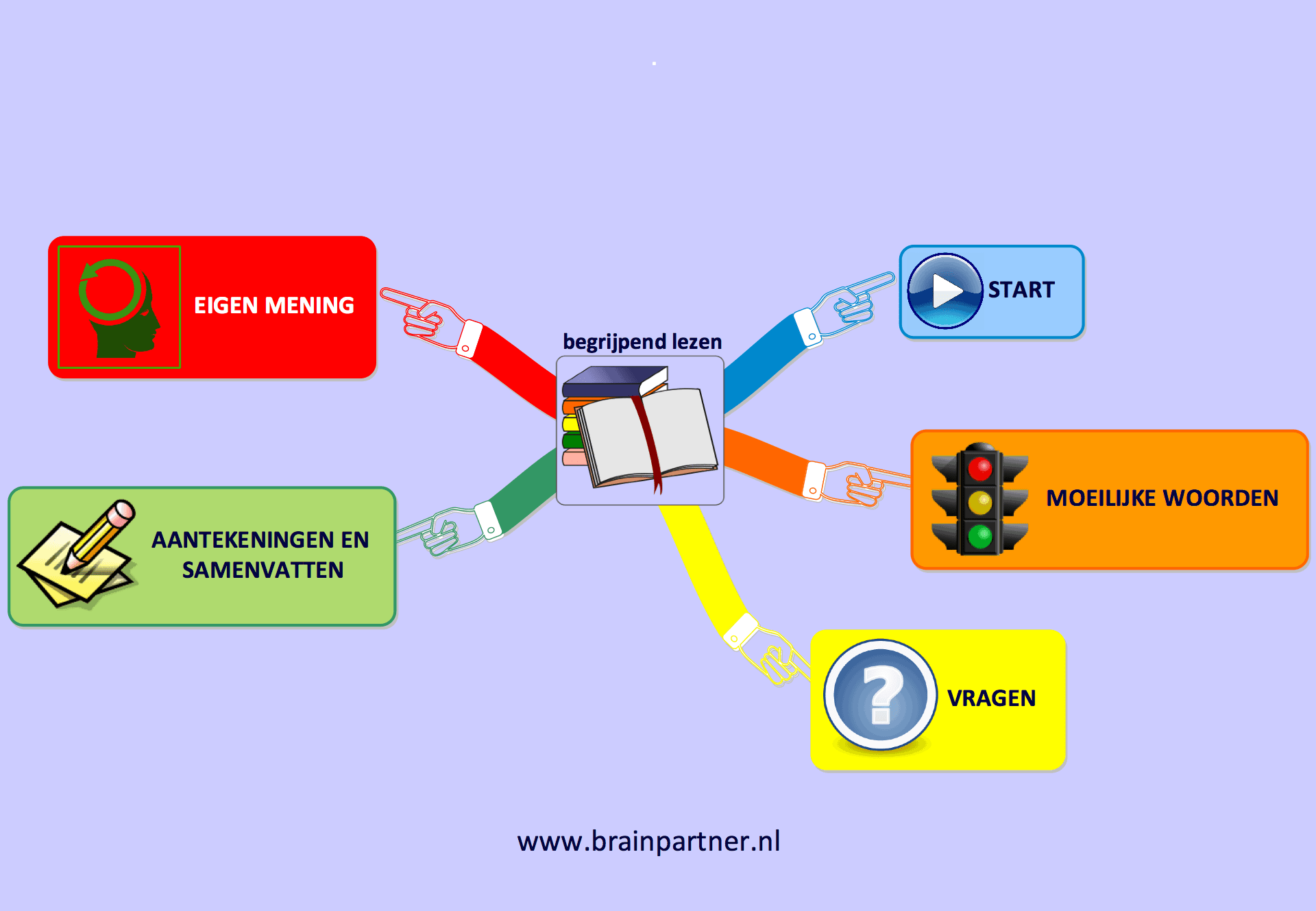 Als u echt iets wilt doen aan kwaliteitsverbetering, lees dan verder.
Modellessen begrijpend lezen
Wij komen naar u toe!
In een co-teachende setting komen Robert Pastoor of Nico Pisa een les van 1,5 uur geven in uw eigen lokaal met uw eigen leerlingen. Die les gaat over begrijpend lezen en u kunt kiezen uit vijf modellessen:
start
moeilijke woorden
vragen
aantekeningen/samenvatten
eigen mening.
Hoe gaat dat dan?
U kunt zich aanmelden in de webwinkel van Brainpartner of u belt of mailt.
Tijdens het intakegesprek bespreken we de beginsituatie, uw wensen, en vervolgens maken we afspraken.
Het grootste deel van de voorbereiding doen wij. Als u helemaal geen ervaring met mindmappen hebt, adviseren wij u vooraf een leuk en eenvoudig boekje te lezen. Op de dag van de uitvoering staan we samen met u voor uw leerlingen.
Wij hebben onze lessen opgebouwd met diverse elementen uit ' Wat werkt'  van Marzano.
We houden de doelen, zowel voor u als voor de leerlingen, strak in de gaten. Uiteindelijk zijn de leerlingen na deze modelles in staat om er verder mee aan de slag te gaan.
Vervolgens kunt u niet alleen uw leerlingen, maar ook uw collega's ondersteunen. U kunt na de modelles gratis gebruik maken van alle bijbehorende lesmaterialen.
Wat kost het?
De kosten voor zo'n modelles zijn inclusief btw € 250,-
De intake, voorbereiding, materialen en reistijd zijn daarin opgenomen.
In het onderhandelingsakkoord CAO-PO 2015 krijgen alle leerkrachten, buiten de verplichte 10% regeling scholing, een eigen budget van € 500,- om aan scholing te besteden. Ziet u theoretische trainingen en cursussen niet zo zitten. Kosten die te veel van uw kostbare tijd, dan bieden onze modellessen wellicht uitkomst.
Meer info / aanmelden
Heeft u er zin in, ga dan naar de webwinkel van Brainpartner en meld u aan.
We nemen zo spoedig mogelijk contact met u op.
Natuurlijk kunt u ook mailen ( robert@brainpartner.info) of bellen: 06-45100510
Wij hebben er zin in, u ook?
Robert & Nico