Veel flexibiliteit met iMindMap
Als u de software iMindMap van ThinkBuzan ( Tony Buzan ) gebruikt, zult u vast weten hoe veelzijdig en dynamisch een Mind Map kan worden gemaakt. Dit kan in een professionele of persoonlijke situatie. Ondanks dat, kunnen wij begrijpen dat sommige taken vanuit uw werk moeten worden aangeleverd of gepresenteerd in een meer traditioneel, lineair formaat.
Of u iMindmap nu gebruikt voor een brainstormsessie, een project plannen, een artikel schrijft of een verslag aan het voorbereiden bent, iMindMap is het perfecte startpunt om uw gedachten en ideeën te structureren.
iMindMap Ultimate's flexibele exporteer opties geven u de ruimte om de map uit te breiden door deze te exporteren naar een aantal opties, inclusief de altijd nuttige en aanpasbare Exporteer als Document & PDF.
Als u uw map heeft geëxporteerd, zal uw nieuwe document de volgorde aanhouden van uw originele iMindMap bestand.  Het Centraal Idee van de map zal de naam van
het verslag hebben. De hoofdtakken zullen hierbij de hoofdstukken zijn en de
subtakken zullen subhoofdstukken worden. Elke notitie die is toegevoegd aan een
tak zal ingevoegd worden als inhoud van de tekst – zo kunt u een volledig
document schrijven vanuit iMindMap.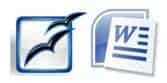 Om te weten hoe u moet exporteren, kijk dan in de handleiding van iMindMap 5 die voor u is vertaald. Hoofdstuk 12 vertelt u meer over hoe u
bestand kunt exporteren.
Bron: ThinkBuzan blog