Ja, dat kan!
Als u  een licentie van iMindMap 5 of 6 heeft, kunt u de licentie overzetten met een procedure in iMindMap.
Voordat u begint is het verstandig u licentienummer te noteren. Het beste kunt u dat doen via knippen en plakken via:
Bestand, iMindMap help
Daarna gaat u de licentie deactiveren op uw huidige computer.
U gaat  naar Bestand> iMindMap Help> Upgrade License (Windows)
of iMindMap 5> Over iMindMap> Upgrade License (Mac).
Klein – rechtsonder selecteert vervolgens: "Deactiveer huidige licentie"
U krijgt vervolgens nog een waarchuwing: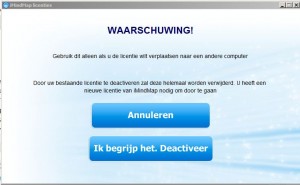 Klik op: 'Ik begrijp het. Deactiveer'.
Dit zal een deactivatie verzoek sturen naar de licentie servers en daarna kunt u de licentie opnieuw activeren op uw nieuwe computer.
De bovenstaande instructies kunnen ook worden toegepast wanneer u het besturingssysteem van een bestaande computer opnieuw wilt installeren.
Soms is uw computer misschien defect en kunt u bovenstaande procedure niet meer uitvoeren. Stuur in dat geval een ticket naar het support team op de volgende webpagina:
http://support.thinkbuzan.com/